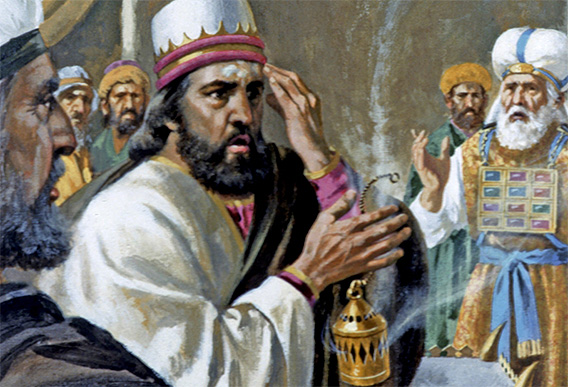 This passage perfectly illustrates the right and wrong usage of anger...
Uzziah became proud and violated the spiritual protocol that GOD had set up in the sanctuary.
Azariah and 80 priests were correctly upset and called Uzziah the king on his arrogance and forbidden activity...
They challenged Uzziah's sin.
Uzziah was "wroth" - that is, he was  pretty upset. He refused to stop what he was doing...
GOD steps in. Suddenly, judgment hits Uzziah in the form of leprosy on his forehead.
Uzziah had become too self important and refused to do things GOD's way...

2 Chronicles 26.16-21 "But at that point he became proud—and corrupt. He sinned against the Lord his God by entering the forbidden sanctuary of the Temple and personally burning incense upon the altar. 17-18 Azariah the High Priest went in after him with eighty other priests, all brave men, and demanded that he get out.
"It is not for you, Uzziah, to burn incense," they declared. "That is the work of the priests alone, the sons of Aaron who are consecrated to this work. Get out, for you have trespassed, and the Lord is not going to honor you for this!"
19 Uzziah was furious and refused to set down the incense burner he was holding. But look! Suddenly—leprosy appeared on his forehead! 20 When Azariah and the others saw it, they rushed him out; in fact, he himself was as anxious to get out as they were to get him out because the Lord had struck him.
21 So King Uzziah was a leper until the day of his death and lived in isolation, cut off from his people and from the Temple. His son Jotham became vice-regent, in charge of the king's affairs and of the judging of the people of the land.