google-site-verification: google85f203565cb16b4c.html
Making Better Thought-Movies One Truth At A Time
_________________________________

People jump to conclusions based on assumptions before diligently considering all the information. They quickly zero in on whom they think is to blame, ignoring easy to be found facts...


"Word Pictures" for Our Imagination


Free Printable Devotional Sheets


Saturday, August 2nd

---
Today's Daily Verse is found in Proverbs 18.13
"What a shame - yes, how stupid! - to decide before knowing the facts!" The Living Bible version

---
Yet we do it all the time!
rash judgments based on one-sided evidence
jumping to conclusions before any investigation of the facts

---
David's erroneous judgment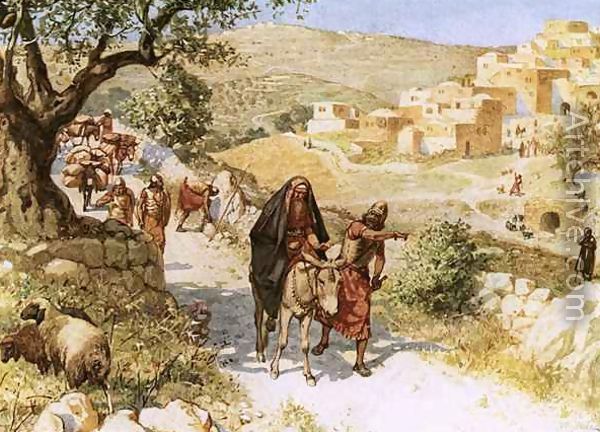 2 Samuel 16.1-4
"David was just past the top of the hill when Ziba, the manager of Mephibosheth's household, caught up with him. He was leading two donkeys loaded with two hundred loaves of bread, one hundred clusters of raisins, one hundred bunches of grapes, and a small barrel of wine.
2 "What are these for?" the king asked Ziba.
And Ziba replied, "The donkeys are for your people to ride on, and the bread and summer fruit are for the young men to eat; the wine is to be taken with you into the wilderness for any who become faint."
3 "And where is Mephibosheth?" the king asked him.
"He stayed at Jerusalem," Ziba replied. "He said, 'Now I'll get to be king! Today I will get back the kingdom of my father, Saul.'"
4 "In that case," the king told Ziba, "I give you everything he owns."
"Thank you, thank you, sir," Ziba replied.
---
See the three lies in verse 3 - all told to David by Ziba - a liar

He stayed at Jerusalem. [in fact, Mephibosheth wanted to go] - verse 26
"Now, I'll be King" - a lie. Mephibosheth did not say that...
"I will get back the kingdom of my father, Saul." Mephibosheth did not say that.

Now the truth...

---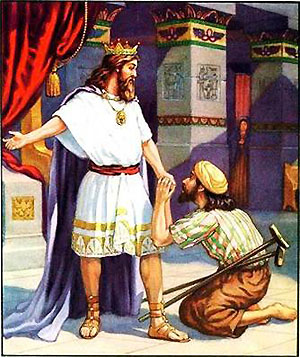 2 Samuel 19.24-30
"Now Mephibosheth, Saul's grandson, arrived from Jerusalem to meet the king. He had not washed his feet or clothes nor trimmed his beard since the day the king left Jerusalem.
"Why didn't you come with me, Mephibosheth?" the king asked him.
26 And he replied, "My lord, O king, my servant Ziba deceived me. I told him, 'Saddle my donkey so that I can go with the king.' For as you know I am lame.
27 But Ziba has slandered me by saying that I refused to come. But I know that you are as an angel of God, so do what you think best.
28 I and all my relatives could expect only death from you, but instead you have honored me among all those who eat at your own table! So how can I complain?"
29 "All right," David replied. "My decision is that you and Ziba will divide the land equally between you."
30 "Give him all of it," Mephibosheth said. "I am content just to have you back again!"
---
When rash and hasty judgments are made, we have to eat our words. Try and take back our judgment of the matter when it is proved to be wrong - because a judgment was made "before" the facts were known.

Making a judgment based only on one side of the story is foolishness, yet we do it so often...because we have built-in prejudices...



---
Elihu did it right...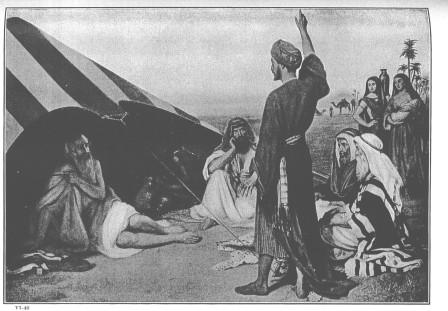 Job 32

Elihu Rebukes Job's Friends
"So these three men ceased to answer Job, because he was righteous in his own eyes. 2 Then Elihu son of Barachel the Buzite, of the family of Ram, became angry. He was angry at Job because he justified himself rather than God; 3 he was angry also at Job's three friends because they had found no answer, though they had declared Job to be in the wrong.
4 Now Elihu had waited to speak to Job, because they were older than he.
5 But when Elihu saw that there was no answer in the mouths of these three men, he became angry.
6 Elihu son of Barachel the Buzite answered:
"I am young in years, and you are aged; therefore I was timid and afraid to declare my opinion to you.
7 I said, 'Let days speak, and many years teach wisdom.'
8 But truly it is the spirit in a mortal, the breath of the Almighty, that makes for understanding.
9 It is not the old that are wise, nor the aged that understand what is right.
10 Therefore I say, 'Listen to me; let me also declare my opinion.'
11 "See, I waited for your words, I listened for your wise sayings, while you searched out what to say.
12 I gave you my attention, but there was in fact no one that confuted Job, no one among you that answered his words.
13 Yet do not say, 'We have found wisdom; God may vanquish him, not a human.'
14 He has not directed his words against me, and I will not answer him with your speeches.
15 "They are dismayed, they answer no more; they have not a word to say.
16 And am I to wait, because they do not speak, because they stand there, and answer no more?
17 I also will give my answer; I also will declare my opinion.
18 For I am full of words; the spirit within me constrains me.
19 My heart is indeed like wine that has no vent; like new wineskins, it is ready to burst.
20 I must speak, so that I may find relief; I must open my lips and answer.
21 I will not show partiality to any person or use flattery toward anyone.
22 For I do not know how to flatter - or my Maker would soon put an end to me!
---
Elihu "hits the ball out of the park"...


He tells them that human wisdom only goes so far
That the Spirit of GOD within him gives wisdom...and understanding
Elihu waited for the elders to speak first
He knew they were unable to answer Job's questions
In Job chapters 32 through chapter 37 and then GOD takes over and speaks to Job and challenges Job out of the whirlwind...
Terrific, powerful information! Take the time to read Job chapters 32 thru 41

---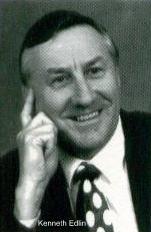 See you tomorrow...

Give someone you know a call today and invite them to this Daily Bible Study.
---
Making Better Thought-Movies One Truth At A Time
_________________________________